Based on
Appendix VIII
in
Prairie UU Society: 50 Years in the Life of a Congregation 1967-2017
Volume 2

Prairie Society Chronology
courtesy of Warren Hagstrom, Bob Park, Mary Mullen
and the other three members of the History Committee. Please
send any corrections to the Archives Committee at archives@uuprairie.org.

A Brief Introduction to the Chronology


Church years begin on June 1 and end on May 31 of the following year (except for 1964-1967). Thus, 1989-90 would begin on June 1, 1989, and continue through May 31, 1990. This holds even though the new Board might have been elected as early as April or as late as early June and regardless of when the last regular service was held before summer break. In early years during the summer, picnics and outings substituted for services, with the congregation meeting sometimes only on a monthly basis. Although today there is an adult service every Sunday all year around, Religious Education (RE) programming changes in the summer.

Warren Hagstrom compiled the first part of this chronology to 1992-93, and Bob Park added our presidents, RE directors, and newsletter editors through 2018 and listed lay ministers through 2000-01. The History Committee has fleshed out the chronology, primarily based on our newsletter, the Prairie Fire. Since publication of the history book set in 2019, the Archives Committee has added yearly updates. The idea of the chronology is to give a capsule view of our locations, leaders, important decisions and common activities, and a flavor of what it meant to be a member of the society. Deaths and other key passages in life are noted for founders, long-time, and/or influential members, and some other members. Underlines emphasize very important items.

Chronology, 1964-present

1964 First discussion among members of the First Unitarian Society of Madison (FUS) about forming a second UU congregation.

1966 Thirteen FUS members provide money for purchase of the 9.9 acre hilltop site at Raymond and Gammon Road for a second UU church.

1967-68  Prairie buds off from the First Unitarian Society, with some financial help and the support of FUS minster Rev. Max Gaebler. On September 17, 1967, Prairie begins meeting at Holy Name Seminary, 702 S. High Point Road, Madison, WI. Temporary bylaws adopted in April 1968. Congregational singing is from printed words only.
Chairperson: Charles Davidson.
RE Director: Marcia Geer.  

1968-69 Meeting at Holy Name Seminary
Minister on loan for 6 weeks in spring of 1969: R. Lanier Clance [obit].
President: Robert Koehl
RE Director: Marcia Geer
Newsletter editor and executive secretary: Elinor Loucks (through Dec. 1972).
First Board elected June 1, 1968, first permanent bylaws adopted April 1969.  Forty-one people became the first official members, rising to 65 during the year. The name is chosen: members thought the "Holy Name Unitarian Society" didn't sound right. "Far West" and "Way Out" were rejected. "Prairie" selected because of a hoped-for building on the prairie at Raymond Road. Services are NOT held in the summer, with outings and picnics substituting for services through summer 1980, sometimes only on a bi-weekly or monthly basis. Weekly Women's book group called VAL-GALS is initiated by Betsy Roberts in 1967 and continues to this day (2019) under the name Wednesday Bookies. First regularly-published newsletter. Programs include one on "Mifflin Street's Message to Madison."

1969-70  Meeting at YWCA on the Square starting in August (through November 1971). Rent is $125/mo.
President: Boris Frank
RE Director: Karen Peters
Newsletter editor and executive secretary: Elinor Loucks
Prairie begins to be self supporting as opposed to having many of its costs paid by FUS. A raffle of wild bunnies is won by the Rucks, Peters, and Birongs. Proposed operating budget of $11,400 adopted, but in October it's reduced to $5,786 due to pledge shortfalls. Bond of Union adopted. First Unitarian Society transfers ownership of the hilltop land on Raymond Road to the "Prairie Site Group" (Prairie and FUS members). Prairie Youth group formed. Prairie has 72 members and 78 affiliates (non-member "Friends"), plus children, as of 12/1969. Second annual "Go Fly a Kite" Sunday held 5/24/70.  Member Jane Ruck serves as Madison alder, 1970-73, for the area where Prairie is currently located (2018). First death of a member:  Ran (Randolph) Cautley dies in December at age 75.

1970-71 Still meeting at the YWCA.
Minister (part-time): David Meyer, starting Fall 1970 through May 1972
President: Joan Burns
RE Directors: Norma Magnuson and Pat Cautley
Executive secretary and Newsletter editor: Elinor Loucks
First Upham Woods Retreat with fees of $10 for adults and $7 per child for 5 meals and 2 nights' lodging. Circle dinners, music group, play reading group, and symbol tree service are proposed by minister David Meyer. All these activities come to pass while he is our minister.

1971-72  In December 1971, Prairie moves to the Portal-Foster Center at 1806 West Lawn Avenue, Madison (through May 1978).  Rent is $100/mo.
Minister, part-time: David Meyer through May 1972 


President: Marvin Woerpel
RE Director: Pat Meyer
Executive secretary: Elinor Loucks
Newsletter editors: Nancy and Mark McElreath
The Prairie Chicken Pluckers, an old-timey music group, organize and provide music to 1976. When David Meyer announces his departure, a Soul-Searching Committee is formed and conceives of the system of rotating lay ministers.  This system of providing Sunday services is adopted. On a vote of 42 to 22 with 1 abstension members at the spring Parish meeting reaffirm commitment to hire a fulltime minister by fall of 1974.

1972-73  Continuing to meet at  Portal-Foster through August 1978
President: Al Nettleton
RE Director: Theron Caldwell
Executive Secretary: Elinor Loucks, through December 
Newsletter editors: Mark & Nancy McElreath through Feb; then Cheralyn Roberts


First lay ministers take their turns: Robert Koehl (Individual Sensitivities); Bruce Bashore (Basic Values in One-to-one Relationships); Dan and Barbara Willard (Ecology).
Prairie institutes the rotating lay ministry system.  The church is completely lay-led until 2006. Prairie Recorder group (later called the Prairie Winds) organized with 15 participants!  Prairie retreat is at Camp Anokijig, near Plymouth, WI. Board asks that Madison no smoking ordinance be observed during Sunday morning meetings "except during coffee breaks and before and after session." "Ministering (Counseling) Committee" formed for self-care of congregation (through 1983). In the fall, member Mary Lou Munts wins election to the Wisconsin Assembly, serving through 1985.

1973-74
President: Roland Parrish
RE Director: Aileen Nettleton
Executive Secretary: Rosemary Dorney
Newsletter editors: Cheralyn Roberts; Pat Watkins starting in September.  Pat names the newsletter Prairie Fire as of April 15, 1974 issue.
Lay ministers: Pat Cautley (A Look at Some of the Problems of Society); George Calden (Marriage, Music, & Madness); Orie Loucks (Learning from the Social Organization of Animals).
Prairie bike trip in August on Elroy-Sparta trail. Prairie retreat is at Camp Anokijig, for the second and last time. Social Action Committee makes "Recognition Awards" (and gives money) to the Blue Bus (AIDs testing) and Jack Osteraas with Project Fresh Start (training at-risk boys in home remodeling). Parish rescinds commitment to having a full-time minister. Sentence about sharpening ethical awareness and broadening our sense of social responsibility added to Bond of Union, and sexist language eliminated from bylaws. Roland Parrish elected as County Supervisor for Madison's 11th District, and Jack Jallings elected to Fitchburg Town Board. Orie Loucks leads a hunt for fiddleheads in the Kickapoo River Valley on a Sunday in May.

1974-75
President: Barbara Willard
RE Director: Theron Caldwell
Newsletter editor: Pat Watkins
Lay ministers: Steve Friedman and Al Nettleton (Community, Myth and Society); Rebecca French (mostly poetry); Fred and Ann Seidl ("About Your Sexuality" for middle schoolers).
Warren Hagstrom coordinates a program about the life and music of Mozart, music provided by members of the congregation. With their marriage, Bob Park and Debbie Doob pioneer Prairie's ability to perform marriage ceremonies without a minister. The retreat returns to Upham Woods. (Prairie people had misbehaved in 1972 at Upham Woods and were banned for two years.  Highlighted constraints include parking only in designated parking lots, no alcoholic beverages or drugs, no picking of flowers or damaging vegetation, no running down hills [and use stairs rather than climbing side banks of Sunset Rock], no jumping on beds, no pillow fights, no food or eating in sleeping accomodations.) Social Action Committee donates to Measure for Measure, a civil rights group working with self-help farms in Mississippi, and to an abortion fund mainained by Zero Population Growth. A women's group meets weekly.

1975-76
President: David Carson
RE Director: Theron Caldwell
Exec. Secretary:  Vivian Meyer
Newsletter editors: Vivian Meyer and Barbara Willard (to 9/75); then Vivian Meyer alone to 3/76; then Barbara Willard
Lay ministers: Richard Perry (Religion: Prairie & UU, varieties of religious expression); Joe Hoffman (art and artists); Annis Pratt (quilts, poetry, women).
An April program on "Shaker Life and Rituals" is led by Ruth Calden and Barbara Carson, with music by the Prairie Shape Note Singers and dancing by almost everyone. Prairie singles group started. Memorial services for young people Jana Osteraas and Bruce Carson, both of whom died in accidents. Member Barbara Willard (and others) successfully argue the case for Dorothy Wetherby's right to bury her daughter Jana on family property, thus preventing exhumation of the body.

1976-77
President: Pat Cautley
RE Director: Theron Caldwell
Newsletter editors: Barbara Willard to 8/13/1976; Terri Laurence (now Prudlo) for 4 mo.; Pat Watkins for 1 mo.; Laura Smail to end of year. 
Lay ministers: Michael Briggs (Roots); Warren Hagstrom (Exploration of What Religion Is); Pat Watkins (Exploration of Unseen and Undervalued Dependencies/Relationships).
Singles referred to area-wide UU singles group. Women's Night Out group meets weekly, outdoors, then morphs to an inside group. Discussion of having joint meeting with Sauk City group. Prairie's certificate of incorporation is registered with Dane County Register of Deeds. In May, Barbara Carson leads a program on ballet that includes a performance of "The Lost Child" by the Carson School of Ballet. Mike Briggs elected as a Madison alder.

1977-78
Presidents: Charles Davidson, succeeded by Henry Pratt, due to controversy related to Madison Newspapers strike. The issue consumes the congregation for several months and results in a change of bylaws giving members more power to bring up items at Parish meetings. 
RE Director: Veda Nomura
Newsletter editors: Laura Smail to end of January 1978; then Carolyn Briggs
Lay ministers: David Lisman (Idealists Confronting Authority); David Carson (Personal Testimony:  Listening to Our Inner Voices); John Ohliger and friends (Basic Choices - Social Consciousness and Social Action); Theron Caldwell (Where Prairie Is at this Point in Time).
Potluck with Sauk City group in June, but apparently without a joint service there. Parish decides that it does not intend to build on the Raymond Road site. Seventh season for the Prairie playreaders. Family service on St. Francis of Assisi includes a procession to Vilas Park, led by Roland Parrish. Cost of lodging for the retreat at Upham Woods is $2.50/night per adult and $1.60/night for those under 18. Many humor-filled short articles in Prairie Fire written by editor Laura Smail. Active member Roland Parrish dies in January 1978, at age 67.

1978-79   In September 1978 Prairie moves to Woodland Montessori School at 1124 Colby Street (off Olin Ave.), Madison.
President: David Lisman
RE Director: Holly Loring
Newsletter editor: Carolyn Briggs; Lee Bullen starting Nov. 1978
Lay ministers: Laura and John Smail (Scott in the Antarctic, Epics, and Mystics); Mary Lou Munts (Politics); Metje Butler and Lois Hagstrom (Art).
In April 1979, Prairie explores buying the Trading Post on Nakoma Road, but loses out when there are two higher offers and the neighbors prefer an insurance company to a church in that location. Sometime between 1978 and 1980 the Prairie U.U. Song Book with music scores replaces the words-only collection for congregational singing

1979-80  Prairie purchases 2010 Whenona Drive in January 1980 and moves there on January 26, 1980. The purchase is funded by member donations, a  $50,000 loan from the Veatch Foundation, and an $8,000 loan from FUS (repayable on sale of the building or dissolution of the Society). This is our church location through the present time with no current plans to move. 
President: Aileen Nettleton
RE Director: Holly Loring
Newsletter editor: Lee Bullen
Lay ministers: Rod Stevenson (energy and related topics); Social Action and Program Committees (Program Committee stresses Unitarianism-Universalism).
Prairie building site at Raymond/Gammon Roads is sold to the City of Madison for park purposes (July 1979). At the new Meeting House, oil furnace replaced by gas furnace, outside walls and roof insulated with two inches of urethane foam, and walls are stuccoed.  Dedication on May 4, 1980, with FUS's Rev. Max Gaebler giving the main address on "The Need for Roots." During the summer Ruth and George Calden lead a week of Couple Enrichment and disco dancing at the UU Camp Unistar, Cass Lake, MN. Prairie Smoke symbol, drawn by Lois Hagstrom, first appears on the 1979-80 Directory cover. In February, Board bans smoking in the meeting room.

1980-81  Throughout the rest of this history, we meet at 2010 Whenona Drive..
President: Aileen Nettleton
RE Director: Pat Cautley
Newsletter editor: Lee Bullen
Lay ministers: George Calden (Marriage, Music, and Miscellaneous); Peg Stevenson (family concerns); John Grindrod (medical history and ethics).
For the first time Prairie now has programming on most Sundays in the summer, half being outings. Operating budget, which generally reached only four digits previously, now always exceeds $10,000. Kazoo Band for kids is conceived by Marty Drapkin. They play at the annual retreat and some Sunday services. Prairie Fire notes that front wall of the meeting room is still finished in a patterned wallpaper. First joint service with the Sauk City Congregation, at Sauk City. Joint get-togethers occur most years since then at Sauk City. In April, Hugh Iltis gives an illustrated program on wild maize in Mexico. First Prairie quilt made in May 1981.

1981-82
President: Betty Jallings
RE Director: Pat Cautley
Newsletter co-editors: Lee Bullen is joined by his wife Alice Bullen.
Lay ministers: David Zakem (Personalities and Cultures); Alice and Lee Bullen (The Bill of Rights);

Barbara Park ("The Disagreements that Unite Us" as UUs).
Budget for 1981-82 church year is $15,583. Railing at front of stage is removed and outside shed built. Ethnic Connection (neé "Ethnic Impurities") folk band formed (playing through 2012) with Ruth and George Calden, Doleta Chapru, and Lee Burkholder. Prairie Smoke makes its first appearance on the Prairie Fire masthead (through 1986). On Valentine's Day, Dorothy Wetherby and Rachel Siegfried lead a program that produces a 4' by 5' "Cosmic Valentine" that is delivered to President Ronald Reagan at the White House. Radiant crabapple planted in memory of Rachel Siegfried's mother and father on Whenona side of Prairie, May 1982.

1982-83
President: Marty Drapkin
RE Directors: Pat Cautley; then Pat with Dayle Haglund in January; then Dayle Haglund from February on
Newsletter co-editors: Lee and Alice Bullen
Lay ministers: Bob West (Crosscurrents in Modern Society); Shirley Grindrod (aging); Mary Mullen (the environment, ecology, and the E-Way, including a program on bird and frog songs).
Prairie Kitchen Companion cookbook, published December 1982, was put on computer by Prairie volunteers at the Bonser home and printed by Lee and Alice Bullen. Parish passes Nuclear-Free Zone resolution; votes to help St. Francis Episcopal Church provide public sanctuary for Salvadoran and Guatemalan refugees. First men's group forms. 35-37 children in RE each Sunday. 

1983-84
President: Michael Briggs
RE Director: Dayle Haglund
Newsletter co-editors: Lee and Alice Bullen
Lay ministers: Lois and Warren Hagstrom (art and music); Marty Drapkin (the criminal justice system); Diane Worzala (history of feminist issues).
In August there is a "Giant Gigantic Garage Sale" coordinated by Pat Watkins, Bob Park begins audio recordings of Prairie Sunday Services, primarily for Sunday School teachers. In December the RE program holds its first Nifty Gifty event. Sid Peterman from UUA meets with the Board to discuss status of Prairie, its finances, fund-raising, and growth.  First Prairie service auction raises $890. 107 members and 65 pledging units reported to UUA.

1984-85
President: Michael Briggs
RE Director: Mary Beth O'Halloran
Newsletter co-editors: Lee and Alice Bullen
Lay ministers: Les Lyons (music, peace, Bertrand Russell, etc.); David McKee and Rick Ruecking (The Male Experience); Doleta Chapru (The Many Faces of Madison).
Bike trip to Sharon Scrattish's home in Mount Horeb. In November, growth workshop facilitated by Carol Ruxton leads to consensus on goals. Average RE attendance is 44.

1985-86
President: Rick Ruecking
RE Director: Mary Beth O'Halloran
Newsletter co-editors: Lee and Alice Bullen
Lay ministers: Elisabeth Jones (Spirituality and Intellect); Judy Spring (Unanswered Questions); Marty Drapkin and Pat Watkins (Working). 
In March, lay minister Elisabeth Jones leads a program on spirituality in sports - baseball, running, Scottish dancing, and the martial arts of India. Second Prairie quilt created, Oct. 1985. Average attendance reported as 90 people! [Could this really be true?  Were they counting all the children?] During Pat Watkins' service on volunteerism, members report that they volunteer about 600 (!) hours a month for 53 different organizations. 1986 adopted budget is $23,653. Parish decides to pass the basket, but this still isn't done every week even in 1991. In 1986 Pat Cautley and Pat Watkins start their bus trips that raise money for Prairie. Pat Watkins continues the trips through 2011. Memorial services are held for Les Lyons, and Lois Hagstrom, both active Prairie members.

1986-87
President: Rick Ruecking
RE Director: Alison McKee
Newsletter editors: Alice and Lee Bullen through October; then Dick Bonser starting Nov. 1986.
Lay ministers: George Calden (Eight Who Dared); Barbara James (Music, Bureaucracy); Carolyn DeJoie (Difficult Questions).
George's program on "The Gospel According to Woody Allen" sees the first use of a VCR in a Sunday service. In September the Sunday afternoon vesper services begin. In October, Rachel Siegfried leads a program on "Me and Eleanor [Roosevelt]." Rev. Gordon Gibson engaged for three weekend visits to help us with our contemplated remodeling. Architect Ed Solner is hired. Lance Green starts the Friendly Supper Club to bring the races together. The group meets at a restaurant once a month. Average RE attendance is 32 children and average adult attendance is in the high 50s or more each Sunday, with membership at 146. [Undoubtedly the membership list needed culling.] Prairie supports making the Martin Luther King Jr. Day a school holiday.

1987-88
President: Mary Mullen
RE Director: Alison McKee
Newsletter editor: Dick Bonser 
Lay ministers: Lynda Lewis (Children of Change); Lance Green (Secular Humanism); Julie Bonser (Evil, and Alcoholism). 
Plans for remodeling are developed by architect Ed Solner. Fund-raising for remodeling commences, and Building Committee formed. Pledges for remodeling reach slightly over $26,000. Bids are taken for construction. Lay ministers to do one to three services instead of eight. Mediation/conflict resolution conducted because of dispute between some men and the women of the congregation. First picture directory published. Prairie banner designed by Metje Butler. Memorial service for Rebecca Clark, age 69, in October.

1988-89
President: Mary Mullen
RE Directors: Alison McKee thru November; then Anne Pryor
Newsletter editor: Dick Bonser
Lay ministers: Al Nettleton (UU Principles); Jack Jallings (Fundamental Changes Are Necessary); Sally Henshaw and Mary Mullen (East Asia); plus other "mini-ministries."
Prairie banner goes to its first General Assembly, Palms Springs, CA.  Contract for remodeling given to Gerald Anderle.  Mortgage note with M & I Bank signed for $66,000 @10% interest. The Meeting House is remodeled to permit handicapped access, increase RE space, and have an upstairs kitchen. Entrance moved from Whenona side to Crawford Drive side.  During construction from August through December 1988, Sunday services are held in Marlborough Park, Garner Park (flying kites one Sunday), and Madison General Hospital's McConnell Hall. Rededication, scheduled for three earlier dates, finally takes place on January 22, 1989. Board spends winter discussing how to rent to the Sunrise School and finally approves a two-year lease in May 1989. Mary Mullen and Fredericka Schilling are on Camp Unistar staff, Star Island, in Cass Lake, MN, summers 1988-1990.  (Dave and Marcia Johnson often attended work week at Unistar before that.) Men who were the focus of dissension have left Prairie.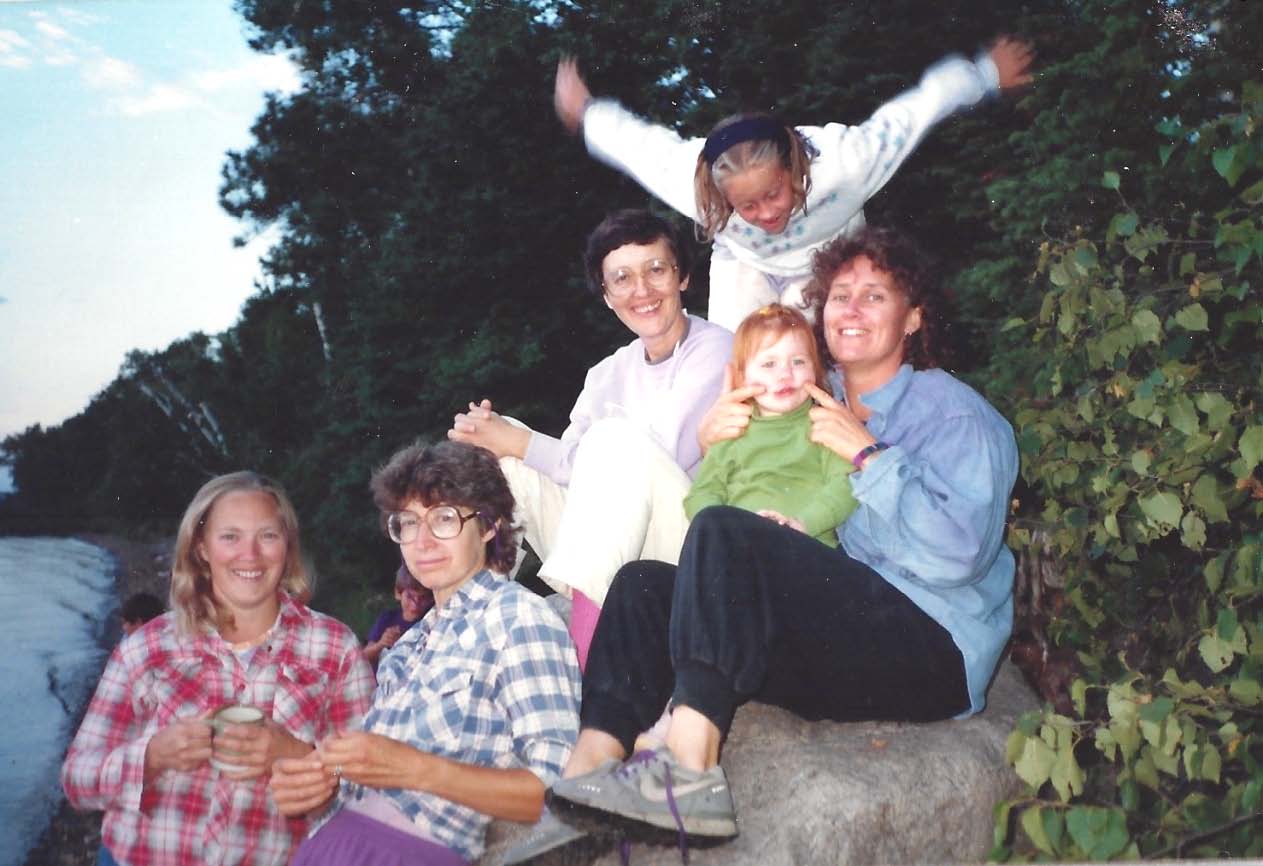 A favorite place at Camp Unistar is Sunset Rock on the west shore of Star Island in Cass Lake. Shown in this 7/28/1988 photo are Assistant Cook Jeanie Inglehart, staffer Mary Mullen in front, Chief Cook Marg Weaver, staffer Fredericka Schilling holding an unknown baby, and Fredericka's daughter Robin Zinthefer flying overhead. Photo courtesy of Mary Mullen.

1989-90
President: Jack Jallings
Newsletter editor: Dick Bonser
RE Director: Anne Pryor
Lay ministers: Warren Hagstrom (religions); Mary Mullen and Fredericka Schilling (Gay and Lesbian issues); Orange Schroeder (Biophilia); Mike and Norma Briggs (Men, Women, and Machines).
Installation of Prairie's prairie in front of the Meeting House, led by Rory Nelson and Diane Derouen. Alcove on stage walled off to use as storage area.  Sunrise nursery school rents the Meeting House, June 1989-August 1990, with Rachel Siegfried hired as paid manager. Prairie Band organized by Mary Mullen for Prairie youth and some adults (through 1992). Oak tree planted in Prairie's back yard on Oct. 1, 1989, in remembrance of Louise Vogel. Fran Remeika featured on NBC's "Unsolved Mysteries." Memorial service for active member Dorothy Wetherby who died in February.

1990-91
President: Jack Jallings
RE Director: Anne Pryor
Newsletter editor: Dick Bonser
Lay ministers: Orton Gray (Death and Dying); Bill Robbins and Michele Honoré (Breaking the Cycle of Disadvantage); Ann Forbes and Jim Lorman (Focus on the Environment); Mark Wagler (Storytelling).
A program on the music of Kurt Weill is arranged by Rosemarie Lester and Al Nettleton. Second men's group forms and meets (through June 1994).  Under Doleta Chapru,  a new Prairie recorder group forms, playing through the end of the decade.  RE Director Anne Pryor starts "Secret Friends" - now "Mystery Friends" - between children and adults. Pitched roof put on over meeting room wing.

1991-92
President: Jack Jallings
RE Director: Anne Pryor
Newsletter editor: Dick Bonser
Lay ministers: Scott Savage (Spirituality); Diane Derouen and friends (Ecofeminism); Peg Barratt (reaching out to be one with the natural world and wih each other). 
A July Sunday outing to the Crane Foundation, Baraboo.  In November, FUS establishes a committee to explore starting a third UU congregation in Madison:  James Reeb Congregation formed in 1993. Wild Wintering overnight held for Prairie Youth, and plans are made for holding Spring Fling, Summer Spree, and Fall Frolic. Pancake breakfast fundraiser held. 

1992-93
President: Julie Bonser
RE Director: Anne Pryor
Newsletter editor: Dick Bonser
Lay ministers: Dick Bonser (Modern Rites of Passage); Terry Krause (Solving Problems).
A Memorial Day outing to Wildcat Mountain State Park is dampened by cold rain.  Instead having the annual retreat at Upham Woods in October, we go to Bethel Horizons on the Labor Day weekend.  Stucco is repaired, trim repainted, and metal chairs are refurbished with new white seats in time for 25th Anniversary celebration on October 25, 1992. New windows planned. Plans are submitted by

Eric Hagstrom for hand-carved Prairie sign, which is installed in November 1992 (until 2010). "Permanent" Prairie choir formed with director Barbara Park and accompanist Doleta Chapru, March 1993. (Doleta accompanies until end of 2011 and Barbara continues directing until present - 2022). Surprise wedding of Doleta Chapru and Warren Hagstrom, in May. Betsy Roberts, early influential member (1967-1974), dies in Kentucky: a memorial service is held at Prairie.

1993-94
President: Julie Bonser
Newsletter editor: Dick Bonser
RE Director: Anne Pryor
Lay ministers: Carolyn DeJoie (Racism); Anne Urbanski (Myths);  Judy Skog  (Unplug the Christmas Machine); Barbara Park (Universalist History). 
In July, "A Little Prairie Night Music" musicale featuring Prairie musicians raises $770 for purchase of a new piano. (The money is used instead to refurbish a baby grand piano given to Prairie; it is still in use in 2018.) Retreat reverts to Upham Woods (through 1998). Lance Green's Friendly Supper Club celebrates its 7th anniversary. Stained glass window featuring a singing bird - representing freedom - is dedicated in honor of Betsy Roberts. Frank Iltis continues to coordinate volunteers for the men's shelter in the Episcopal Church. Prairie begins to regularly start services with a prelude. Purchase of denominational hymnbook Singing the Living Tradition. In the spring, the women's group in its current format begins, continuing to present (2019).

1994-95
President: Julie Bonser
RE Director: Anne Pryor
Volunteer administrator: Pat Watkins.
Newsletter editor: Dick Bonser until Feb. 1995; then Fran Zell. 
Lay ministers:  Warren Hagstrom and Doleta Chapru (Everyday Morality, and music); Jack Jallings  (Alternatives for Creating a Just Society); Cinda LaMar (UU Principles Through the Visual Arts); summer services focus on the Seventh Principle - "the interdependent web of all existence." 
Prairie youth start PYGs (Prairie Youth Group). Process started to hire a paid  administrator. 

1995-96
President: Rick Ruecking 
RE Director: John-Brian Paprock
Many newsletter editors: Fran Zell until Sept. 1995, Louie Scrattish until March 1996, John-Brian Paprock (3 issues end of 1995-Jan. 1996), then Arleigh Birchler (hired as Administrator and starting the custom of having the administrator take charge of the Prairie Fire).
Lay ministers: Michael Sheehy (The Web of Life); Barbara Rames (UU History and Thought); Betty Jallings (influential Books).
Website is being developed. Shaarei Shamayim, a Jewish Reconstructionist Congregation, has been renting Prairie on an ad hoc basis. First musicale at the home of Barbara and Bob Park to celebrate their February birthdays. A congregational survey finds that the most popular services of 1995-96 are Cephus Childs'story of his participation in the "Million Man March," Hugh Iltis speaking on "Population and Development," George Calden's "Let Every Light Shine," Leona Balek's "Countering the Religious Right", and Barbara Rames' "Emerson." Long time member John Grindrod dies at age 78, in January. Carol Dopp dies in March, age 47.  Early member Avis Parrish dies in April.

1996-97
President: Rick Ruecking through December; Barb Park starting in January.
RE Director: John-Brian Paprock
Administrator/Newsletter editor: Arleigh Birchler through early March 1997; Kate Heiber-Cobb starting in May.
Additional newsletter editor: John-Brian Paprock, interim editor, 3 issues, March-April 1997 until new administrator is hired
Lay ministers: Mary Mullen  (Welcoming Congregation); Al Nettleton (Benefits and Dangers of Information Technology).
A classic European cabaret is suggested by Rosemarie Lester to raise money for maintenance and repair of the piano.  In June, Doleta Chapru organizes it. Mayoral candidate Paul Soglin speaks at Prairie (as do U.S. Representative candidate Tammy Baldwin in 1999 and Madison Mayoral candidate Dave Cieslewiscz in 2007). Founders' Day celebration brings many "old-timers" to Prairie Sunday service and picnic on August 31, 1996. Shaarei Shamayim contracts to share space with Prairie (continuing until 2008). Caring Committee in its current form initiated by Marilyn Peters (now Marilyn Ruecking): each committee member is given a roster of Prairie folks to care for. New boiler. Help with Men's Homeless Shelter is ongoing (since early to mid-1970s). Men are "creating a third incarnation of a Prairie men's group" that turns out to be short-lived.

1997-98
President: Barb Park. 
RE Director: Robin Carré.
Administrator/Newsletter editor: Kate Heiber-Cobb
Lay ministers: Gail Coover (Race and Ethnicity); Barbara Golden (Issues in Public Education); Cindy Haq (Health & Justice); Phoebe Rosebear (When Your Heart Opens).
An "annual" June service at Picnic Point. Prairie starts participating in Allied Partners, working to support people living in the western part of the neighborhood. Lee & Ann Urbanski create Prairie website. Second picture directory published. Computer is set up for email. GLSEN (Gay, Lesbian, & Straight Education Network) links to Prairie.  Prairie PYGs youth group is active. Mischa Park-Doob is selected as a Presidential scholar. Service auction raises $2,900. "Spirituality" addition to Sunday service: consistent reading at Chalice lighting followed by a 30-second moment of contemplation. Twenty pairs of "Secret Friends" participate in potluck party. Early president Marvin Woerpel dies in July. In February, active member Mike Sheehy dies at age 50, and a very crowded memorial service is held.

1998-99
President: Nancy Schraufnagel
RE Director: Randy Converse
Administrator/Newsletter editor: Kate Heiber-Cobb
Lay ministers: Anne Pryor (Art & Religion); Steve Pierce (Poverty in Dane County); Cindy Haq and Gary Giorgi (Health & Social Justice); Orange Schroeder  (The Church Across the Street). 
Prairie applies for and receives status as a Welcoming Congregation. Prairie becomes buddy church for Interfaith Hospitality Network serving homeless families at Midvale Lutheran Church one week every quarter (continuing until 2018 when the program is disbanded). Sidney and God, a play written by UU Doug Mudder and adapted by Anne Urbanski, is presented at Sunday service. First Day of the Dead service, brought to Prairie by Ruth Calden after seeing celebration in Mexico. Last year that retreat is held at Upham Woods. Early member Odell "Tally" Taliaferro dies in April at age 92.

1999-2000
President: Nancy Schraufnagel
RE Director: Randy Converse
Administrator/newsletter editors: Kate Heiber-Cobb through Oct. 1999; Marilyn Ruecking, from March 2000.
Interim Newsletter editors: Anne Urbanski (2 issues), Rick Ruecking (6 issues). 
Lay ministers: Kay Frazier and Marilyn Ruecking (Hunting for Hope); Pat Watkins (Going About the UUA's Business). At a special Parish meeting, Prairie members approve displaying yard sign "Madison supports its Lesbian and Gay Communities." Fall retreat is at Bethel Horizons, continuing there through the present (2018) except 2009 and 2010. Mission statement is adopted. Prairie starts using fair trade coffee produced by third world small-scale farmers. New locks installed.  Late 1970s leader Henry Pratt dies in May, in Detroit.

2000-01
President: Erin Bosch
RE Director: Randy Converse
Administrator/Newsletter editor: Marilyn Ruecking
Lay ministers: Robin Carré (Our Whole Lives [OWL]); Susan Hagstrom (Skepticism); Lisa Glueck and Larry Nahlik (Eastern Religions); Nancy Schraufnagel and others (Healthy Congregations and Conflict); Judith Strasser (The Reason/Unreason Project).
Growth  discussions continue and Prairie distributes 8,500 flyers as a newspaper insert - to no avail. Barbara Park and Mary Mullen start the Prairie Book Club.  Betty & Jack Jallings celebrate 60th wedding anniversary. Shirley Grindrod and Bob Durkin are married. Prairie directories include email addresses for first time. Member Daisy Peterson becomes a citizen.  Mid-1970s leader Paula Elkins dies in October.

2001-02
President: Erin Bosch
RE Director: Randy Converse 
Administrator/Newsletter editors: Marilyn Ruecking thru Feb. 2002; then Wendy Williams
Lay ministers:  Jean Matos (Creativity and the Arts); Deep Ecology Study Group (Ecology); Rev. Sandy Ingham (UU Connections); Bev Cann (LGBT issues).
Growth workshop in August. Flyers mailed to 1,000 nearby households with children to no avail. Long Range Planning Committte recommends that we invest in land. Another Labor Day picnic at Wingra Park with canoes. Regular art exhibit on front wall of meeting room. Robin Proud presents "Margaret Fuller" as her first of many biography services. Service auction raises $4,415. Mid-late 1970s leader David Carson dies in August.  Long active member Shirley Grindrod Durkin dies in October, age 80.  Lee Bullen, active 1979-87, dies in December, age 86 (in PA).



2002-03
President: Ken Skog
RE Director: Kristi Sprague-Klepzig
Aministrator/Newsletter editor: Wendy Williams.
Lay ministers: Doleta Chapru (politics/democracy and religion); Rose Smith (Immigrant Stories); John Lewis (Science and Spirituality).
Women's group renamed WOW (Women of Wonder, Women of Wisdom, Wild Outstanding Women) by Mary Somers who also starts Prairie's first listserve to keep WOW women informed.  Prairie's 35th Anniversary Party.  Prairie seriously considers hiring a minister and votes to move to a larger building.  The most-liked services in 2003-04 are Cal Dewitt's on environmental stewardship, John Nichols' on civil liberties, Doleta Chapru's "A Posse of Giddy Girls" and Jane Camerini's on Alfred Russell Wallace.  Four others tied for fifth place.  They were given by Doug Smith, Robin Proud, Norman Stockwell, and Ruth Calden.  Carl Thompson dies in September, age 72, and early Prairie member John Smail dies in October, also age 72 [mem_res].

2003-04
President: Ken Skog
RE Director: Jeanie Trigg
Administrators/Newsletter editors: Dan Proud (on Prairie Fire masthead) but both he and his wife Robin are officially in charge of these duties (through 9/15/2008).
Lay ministers: Al Nettleton (The Living Tradition); Amy Owen (Journey of Healing); Bob Lawrence (Islam).
In March, Parish authorizes the Board to negotiate an agreement for construction of a new meeting house on the Fitchburg site. (The site hadn't been purchased yet.) In April, Parish directs the Board  to "investigate the feasibility of Prairie's hiring a part-time temporary consulting minister," make a report at a future Parish meeting, and at the same time perhaps present a willing minister to fill the position.  Hiring such a minister "does not constitute a choice by the membership of the 'Professional Ministry' option." Tim Fast's memorial service in April.

2004-05
President: Mike Briggs
RE Director: Melissa Gjestvang-Lucky
Administrators/Newsletter editors: Dan and Robin Proud
Lay ministers/themes: Bob Lawrence finishes his lay ministry from previous year; seven (!) music services throughout the year; Rev. Sara Oelberg (Humanism).
Bob Park brings the Humanist Union into being (monthly meetings continuing to present, 2019). Midweek potluck meal started (continuing through 2007).  Sargent crabapple is planted in backyard in memory of Pat Watkins' mother Doris Gaines.  Two 10-week study courses held - Corporate power; Iraq. Minister Search Committee is formed, and in November Parish authorizes it to go ahead with the process to hire a part-time temporary consulting minister. 2005 calendar year operating budget exceeds $100,000 for the first time. Doleta Chapru helps bring the  Prairie Elders group into being (continuing through 2017).  Dirk Herr-Hoyman's plan for Prairie website chosen. We learn that early leader Dan Willard has died, January 2005.  Marian Thompson dies at age 87, in March. Active member Bob Lawrence dies at age 62, in March.

2005-06
Minister: Jody Whelden, quarter-time consulting minister, starting August 2005. She is our first paid minister since Dave Meyer left in 1972! 
President: Mike Briggs.
RE Director: Bob Radford until 3/11/2006; Rebecca Malke-Eliganti starting 4/16/2006
Administrators/Newsletter editors: Dan and Robin Proud
Lay ministers: Rachel Long with Rebecca Malke (World Religions); Steve Vorass (Evangelicalism).
New roof put on 2010 Whenona.  Land for a new building purchased on Gunflint Trail in Fitchburg from the Fitchburg Center for $300,000, September 2005, with loans from members, refinancing of 2010 Whenona, and Prairie financial reserves. In October, a visioning workshop, associated with ministry startup, is held with help of Rev. Jim Hobart of Central Midwest District. Volunteers help fix up an apartment on Allied Drive for Hurricane Katrina victims. Singing the Journey, denominational hymnbook supplement, purchased. New groups: meditation group led by Judy Skog; Midlife Orphans discussion group. Other committees/groups:  Committee on Ministry; Task Force on Right Relations (Rev. Whelden); Capital Fundraising Committee; Prairie Film Group (Al Nettleton). Prairie Fire lists website and two listserves, Prairienews and Prairieviews. Prairie moves toward electronic distribution of Prairie Fire.

2006-07
Ministers: Jody Whelden ¼-time consulting minister through 6/30/2006; Ralph Tyksinski appointed as ¼-time consulting minister 11/5/2006 (stays with us until 6/30/2010).  
President: Mike Briggs
RE Director: Rebecca Malke-Eliganti
Administrators/Newsletter editors: Dan and Robin Proud
Lay ministers: Kathy Converse (Evolution); Andy Somers (Freedom of Speech or Propaganda).
New web site is designed by Bob Park. Two convenant groups form. Pledge collection through automatic electronic funds transfer (EFT) is explored. Judy Skog starts EnAct environmental study group which meets for 6-8 months. Meditation group led by Lisa Glueck.

Congregation discusses new building plans for Fitchburg site, but Parish suspends process toward construction in April 2007. Some who have loaned money withdraw their loans.  Four-page appreciation of George Calden in 12/15/06 Prairie Fire. After George Calden dies in January: remaining members of both the Ethnic Connection and The Martin Buber Trio form the Continental Drifters music ensemble (continuing through 2017). In May, Parish votes to stop building plans. Memorial services are held for two Prairie stalwarts who died in January 2007: George Calden, nearly age 92; [obit] and Pat Cautley, age 93 [obit].

2007-08
Minister: Ralph Tyksinski, ¼-time
President: Rachel Long
RE Director: Rebecca Malke-Eliganti
Administrators/Newsletter editors: Dan and Robin Proud
Lay ministers: Anne Lundin ("This I Believe" panel series); Rick Ruecking (Ways of Seeing).
Covenant of Good Relations adopted. Mary Mullen's service on "Celebrating Malvina Reynolds" uses YouTube clips through Prairie's Wi-Fi connection, a first! Rebecca Malke appears in movie Sicko. A Child's Christmas in Wales is presented by Rev. Ralph, Andy Somers, Al Nettleton, the Prairie Choir, and the Cambrian (Welsh) Singers. New boiler installed. Andy Somers primes the pledge pump with an elaborate musical production performed by many Prairie members. Orange Schroeder selected by American Red Cross as "Real Hero" for her many contributions to the Madison community. In March, over 20 adults and kids who attended a Prairie potluck are struck by a mysterious illness. (All recover promptly.) Prairie Winds forms at behest of Mary Frantz (until 2013). Youth member added to the Board. Raju (John) Eleganti starts as our paid janitor (continuing through present - 2019). Influential leaders from past die:  Alice Bullen in September, age 88 (in PA); Hermine Davidson, fall; Rachel Siegfried in January, nearly age 83, Betty Jallings in April, age 91 [obit].

2008-09
Minister: Ralph Tyksinski, half time, then 3/8 time in Spring
President: Rachel Long
RE Director: Rebecca Malke-Eliganti
Administrators/Newsletter editors: Dan and Robin Proud through mid-September, then Kate Liu
Lay ministry theme: Anne Lundin ("This I Believe" panel series continues).
Intergenerational invasive plant pull at UW Arboretum. In August, Fitchburg property is sold to another church; members' promissory notes and mortgage on 2010 Whenona paid off, and a $44,000 capital fund established. (Fitchburg property eventually became part of the Montessori school next door, and a parking lot was built there.) Shaarei Shamayim ends its rental relationship with Prairie that began in 1995. Prairie raises $230 for Knoxville Relief Fund after the shooting in a UU church there.  Green Committee established and Prairie receives permission from Parish and UUA to pursue Green Sanctuary activities that will ultimately result in certification. In November, congregation adopts the 2008 Strategic Plan listing 6 outcomes and 6 major actions for the 2008-09 church year. Karleen Tyksinski leads pancake breakfast fundraiser. In April, adult membership is 107 with average attendance of 50.  Ten raccoons removed from Prairie attic. Bob Park begins to broadcast some recordings of Sunday morning speakers on WIDE-LP (low power) broadcasting station. Prairie Fire is primarily email/online, not paper. Early leader Charlie Davidson dies in November, age 88 [obit, mem_res]. Memorial service at Prairie for Dick Bonser who died December 2008 (age 70 in AZ). 

2009-10
Minister: Ralph Tyksinski, back to half time at his request
President: Rachel Long
RE Director: Rebecca Malke-Eliganti
Administrator/Newsletter editor: Kate Liu  
Lay ministers: Rachel Long (GA's Greatest Hits); Ingrid West (Earth-centered Religions); Green Sanctuary Committee (environmental awareness). Other UU ministers in addition to Rev. Tyksinski are invited to conduct Sunday services to help Prairie decide whether to hire a settled minister.
Linoleum replaces tiles in RE space, and wall paintings are painted over. Kids create the butterfly garden, preparing soil in fall, making signs and planting in the spring. Retreat held this year and next at Pine Lake Camp near Westfield, WI. Costs for 2 overnights $55-$82 per person, food $40 for adults, $20 per child. Lee Haspl, grandson of UU martyr Norbert Čapek, presents Prairie with a copy of Čapek's hymnbook. Special collection for Haiti Earthquake Relief totals $1,000! "Menus for the Future" 6-week course (Green Committee). High school class visits UUA headquarters in Boston. Mary Somers gets UU Humanitarian award from the UU church she attends in the winter in Tucson, AZ, for her work with No More Deaths. Bob Park begins digital recording of Sunday services. At the May 16 Parish meeting, the Long Range Planning Committee reports that Prairie is not ready to call a settled minister. Mary Lou Diehl dies in March at nearly age 90; memorial service in May.

2010-11
Ministers: Ralph Tyksinski until June 30, 2010, then Jane Esbensen starting August 15, 2010, ending April 1, 2011, when Jane moves to Sweden after her marriage. Both Ralph and Jane are half-time consulting ministers.
President: Barbara Park (First term was 1997-98.)
RE Director: Rebecca Malke-Eliganti
Administrator/Newsletter editor: Kate Liu.
Lay minister: Rebecca Malke (How the World's Religions Promote the Seventh Principle).
Monthly Soup Sunday instituted to build community and raise money, continuing to present (2019). Wooden chairs from Holy Wisdom Monastery replace metal chairs used for 30 years. RE students make mosaic stepping stones featuring the Seven Principles. New sign, made by Cary Sign Design Studio LLC, erected Nov. 2010. EFT automatic withdrawal of pledge payments is doing very well. Prairie musicians present the "Jazz Funeral for the Old Year" as the New Years Day Sunday service. Starting in January, a number of Prairie folks participate in the lengthy protests and rallies against policies of newly-elected Governor Scott Walker. Freedom Seder ispresented by Ruth Calden and Mary Mullen as the Easter Sunday service (updated from 1971 service during a time of Black Liberation). Prairie meets yearly pledge  goal of $82,500. Dorothy Krause elected as a Fitchburg alder and reelected every 2 years in April since then. Jack  Jallings dies in August, age 96 [obit]. Barbara Rames dies in September, in Minneapolis.

2011-12
Ministers: none
President: Barbara Park
RE Director: Rebecca Malke-Eliganti
Administrator/Newsletter editor: Dan Klock
Lay ministers/themes: Rachel Long (Mental Health); Peter Anderson (Death and Dying ); about 10 services relating to "Rights."
Prairie is granted Green Sanctuary status, November 2011.  Mini-retreat held at Prairie in fall, then retreat returns to Bethel Horizons in spring. After several information meetings, in April 2012, Parish adopts new governance plan, reducing the Board to seven members, from fourteen! Board terms are staggered. (The idea of a policy Board had been discussed since 2009. Change is effective 7/1/12.) Concluding 25 years of involvement in fundraising trips, Pat Watkins hosts a weekend bus trip to Grand Rapids, MI. Prairie to get a Twitter account to augment the website. Sunday service "Hail Poetry," a tribute to Barbara Rames. Dorothy Krause elected as a Dane County Supervisor (and every 2 years in April since then) Two very active members die: Dave Johnson  in October, age 79 [remembrance]; Doleta Chapru in April, age 75 [article, obit]. Carl Wacker takes choir accompanist position after Doleta's death.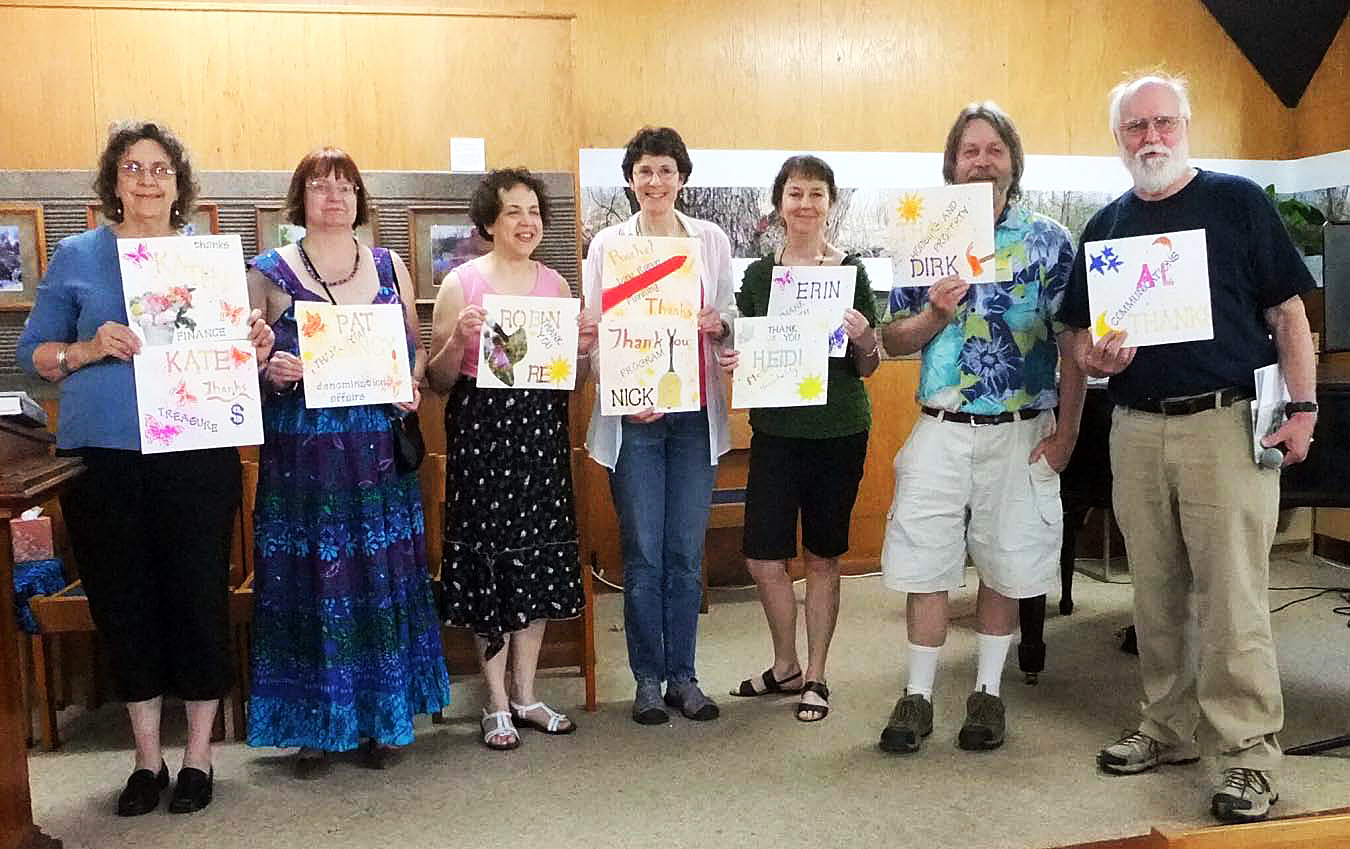 The 2011-12 Board was honored with colorful posters on 6/3/2012: Kathy Converse holding posters for herself as Finance Chair and Kate Liu as Treasuer; Nancy Schraufnagel representing herself and Pat Watkins as Denominational Affairs Co-chairs; Robin Proud, RE Chair; Rachel Long holding her poster for Long Range Planning and another for Nick Abts, Program Chair; Erin Bosch holding posters for herself and Heidi Hughes as Hospitality and Membership Co-chairs; Dirk Herr-Hoyman, Housing and Property; and Al Nettleton, Communications Chair. Photo by Mary Mullen.
2012-13
Minister: Sandra Ingham (half-time, consulting minister) begins ministry in Sept., continuing until 3/31/19 
President: Barbara Park
RE Director: Rebecca Malke-Eliganti
Administrator/Newsletter editor: Dan Klock serves in both roles until 1/25/2013 when newsletter function is removed from administrator duties. No newsletters February through June 2013.
Lay ministry themes: Putting your faith into action; empathy and compassion.
Little Free Library installed on Prairie grounds. Decision to purchase the house next door at 2006 Whenona Drive is based on successful fundraising campaign which brings in nearly $110,000 for the Capital Fund. Over $22,000 also raised for the operating budget. Board is concentrating on a Policy and Procedures Manual. Congregation votes to join MOSES, focusing on reducing incarceration in Wisconsin. After Orange Schroeder's stepfather (a UU minister) dies, she donates his flaming chalice stained glass hanging to Prairie. Prairie hosts homeless people for two nights during sub-zero weather in January. In March, Bob Park starts a podcast page on the Prairie website.  Fourth incarnation of the men's group (through 2016). Dave Zakem dies in August (age 67) [obit]. Fran Remeika dies in November (age nearly 97). 
2013-14
Minister: Sandra Ingham, half time  
President: Barbara Park
RE Director: Rebecca Malke-Eliganti completes her eighth year! 
Administrator: Dan Klock
Newsletter editor: Susan Herr-Hoyman, starting July 2013
Lay ministry themes: Environmental topics; anti-incarceration topics.
Prairie co-sponsors Make Music Madison with the Dunn's Marsh Neighborhood Association (DMNA) for the first time, with peak attendance of 60 people; most acts feature Prairie members. Purchase of 2006 Whenona Drive, 7/1/13.   Committee formed for remodeling, planning, fundraising, demolition, and reconstruction which occur over the next two years with much congregational participation. RE focuses on UU religious sources, starting with fall semester on Christianity. Elaborate Committee Fair recruits members to committees. Artists of the month include Prairie knitters, Barbara Park (watercolors), Prairie's young people (pictures), and Tony Prudlo (photographs). Gordon Cunningham dies in July, age 91 [obit]. Pat Watkins dies in December, nearly 85 [obit] as does early Prairie member Mary Lou Munts, age 89 [obit]. Bob Durkin dies in February [obit].
2014-15
Minister: Sandra Ingham, half time  
President: Gary Gates
RE Director: Holly Tellander
Administrator: Dan Klock  Newsletter editor: Susan Herr-Hoyman through Jan. 2015, then Phyllis Long through Feb. 2019). 
Prairie co-hosts Make Music Madison with DMNA for nine (!) hours of outdoor, free music, with five of the sixteen acts featuring Prairie members and three others with neighbors. RE Director starts the Prairie Religious Education Facebook page.  RE enrollment in fall is 29 students. Youth present survey findings of Prairie folks' beliefs. Kim Tedesco offers quilted chalice in service auction; when finished it is displayed on the podium (to present).  Auction raises $4,711. History workshop at fall retreat, and History Committee begins meeting, Dec. 2014, continuing through 2019.  2006 Whenona Drive house is named The Annex by Parish vote, May 2015. Norma Briggs dies in April, nearly age 80; Nancy Garst in December at age 80. Memorial service in February for Mona Birong, age 91 [obit]. Early leaders, long gone from Prairie, die: Bill Burns, Barbara Carson, Robert Siegfried. [obit, mem_res]
2015-16
Minister: Sandra Ingham, half time  
President: Gary Gates
RE Director: Holly Tellander
Administrator: Dan Klock
Newsletter Editor: Phyllis Long
Lay ministry themes: The Seven Principles (Program Committee); local social action initiatives.
Annex certified for occupancy, with first meeting held there in July 2015 and dedication on September 13. Monthly Board Game Night begins. The Octogenarian Near-Thanksgiving dinner, brainchild of Patty Stockdale, honors 14 Prairie folks who are  80 and older. Just Bakery starts selling baked goods on Sunday morning once a month (supports returned prisoners). Policy of sharing offering 50/50 with selected local charities begins, continuing to present (2019). Service auction income brings in a record $12,000 under the leadership of Patty Stockdale and stays in that range to present (2019). Early leader Robert Koehl dies in July, age 93. Active member Galen Smith dies in October, age 89. Orton Gray, who had moved away, dies in Colorado in December, age 73 [obit]. Theron Caldwell Ris dies in May, age 84 [obit]. Other early leaders die where they've been living far away: Lilo Koehl, age 96, in AZ [obit]; Laura Smail, in May, age 93 in Charlotte, NC [obit].
2016-17
Minister: Sandra Ingham, half time 
President: Gary Gates
RE Director: Holly Tellander
Administrator: Dan Klock
Newsletter Editor: Phyllis Long
Lay ministry themes: The Seven Principles (Program Committee); local social action initiatives.
Kate Liu thanked for 10 years of service as registrar for our retreats. Planning begins for remodeling our main building, 2010 Whenona Drive. History Committee publishes facsimile Prairie Kitchen Companion cookbook. RE class Hogwarts School for Witchcraft and Wizardry collects cans for Humane Society. Founder Orie Loucks, whose testimony led to the banning of DDT, dies in September 2016 at nearly age 85. Former member and noted botanist Hugh Iltis dies at age 91, in May [mem_res].


2017-18
Minister: Sandra Ingham, half-time 
President: Gary Gates, until 12/31/17; then Andy Garst
RE Director: Holly Tellander
Administrator: Dan Klock
Newsletter Editor: Phyllis Long  
Lay ministry theme: The Six Sources (Program Committee).
Sidney and God dramatization is revived in honor of Prairie's 50th anniversary. Mary Mullen organizes Make Music Madison for Prairie and Dunn's Marsh Neighborhood Association for the fifth and last time. Gray upholstered chairs replace wooden chairs in use since 2010. RE shifts from an age-contained curriculum model to an age-integrated workshop model with five different learning spaces for younger kids, while grades 9-12 do a film-based curriculum. Fiftieth Anniversary events are well attended: Wine and Cheese Party (85 attendees, 9/16) and 50th Anniversary celebration (at least 118 attendees, 9/17). Congregational photo shows 96 people. Terri and Tony Prudlo hold a luncheon and program to celebrate their 40 years together. Kickoff (March 2018) of Capital Fund Drive for renovation of main building; $306,140 is raised including a matching donation from two anonymous members.  Operating budget for calendar year 2018 is $130,289.  Prairie historian Warren Hagstrom dies in July at age 87 [obit].  Second decade past leader Shirley Lake also dies in July, age 86 [obit].
2018-19
Minister: Sandra Ingham, half-time (actually 24 hours weekly), until 3/31/19
President: Rachel Long, her second time (first was 2007-2010)
RE Director: Holly Tellander
Administrator: Dan Klock
Newsletter Editor: Phyllis Long until Feb. 2019, then Katrina Thompson (one issue) and Renee Deschard.
Current committees: Nominating, Program, Religious Education, Social Action, Membership, Finance, Housing and Property, Denominational Affairs, Caring, Communications, Archives, Remodeling.
On-going groups and activities: Choir, WOW women's group, Humanist Union, Spanish Speakers potluck, Book Club, annual congregational retreat at Bethel Horizons, volunteering at the Men's Shelter at Grace Episcopal on the Square, Board Game Night, seasonal RE celebrations, Mystery Friends, Nifty Gifty, Interfaith Hospitality Network program for homeless until disbanded during 2018. (Prairie had volunteered once a quarter since 1998-99.) A two-volume history of Prairie's first 50 years was released in April, culminating over 4 years of work by the History Committee. Jim Carpenter dies, 11/22/18.
Important decision: On February 24, 2019, by Parish vote Prairie authorized expenditure of up to $540,000 for remodeling of the Meeting House at 2010 Whenona Drive. The vote was 35 in favor, 3 opposed, and 4 abstentions. Remodeling started with asbestos removal on Memorial Day weekend, 2019.
This continuing Chronology goes beyond what's in the Prarie history book.
2019-2020
President: Rachel Long
RE Director: Holly Tellander
Administrator: Dan Klock
Newsletter Editor: Renee Deschard
During remodeling of 2010 Whenona Dr., Religious Education children went on field trips during the summer and the congregation met in the Annex in June and July. Starting in August, services moved to Oak Park Place, 4327 Nakoma Road, during remodeling. Arrival of the coronavirus ended our meetings there after our March 8, 2020 service. Prairie joined FUS and the James Reeb Congregation for virtual services through May 2020. We lost three very long-active Prairie members in August and September 2019: Ruth Calden, age 92, a main author of the Prairie history book set, [obit] and musicians Mike Briggs, 84, [obit] and Rosemarie Lester, 93 [obit]. On 1/26/20 the congregation voted to hire a full-time contract minister and soon afterward a Minister Search Committee was appointed.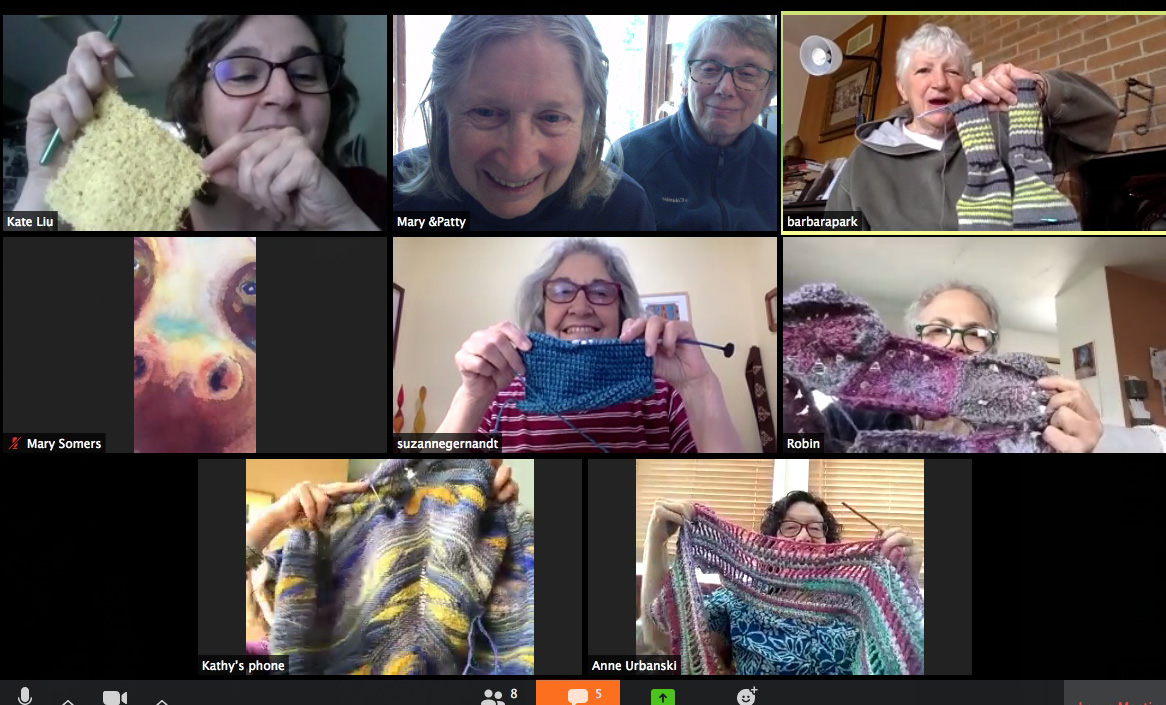 At the May 2, 2020 Zoom meeting of the women's group, many women showed craft projects they had been working on. Attending were Kate Liu, Mary Mullen and Patty Stockdale. Barbara Park, Mary Somers, Suzanne Gernandt, Robin Proud, Kathy Converse, and Anne Urbanski. Meeting virtually allowed Anne to attend from Santa Fe, New Mexico. Other times we have had women attend from Alaska, Arizona, Colorado, and Illinois.
2020-2021
President: Rachel Long
RE Director: Holly Tellander, through July 2020; then Alice Mandt starting 5/10/21
Administrator: Dan Klock
Newsletter Editor: Renee Deschard
During the coronavirus epidemic which lasted the entire year, we adapted by conducting our own services, Parish, Board and committee meetings over Zoom.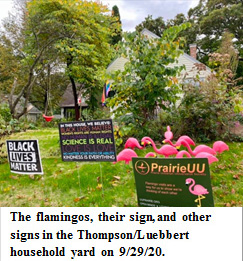 For children there were Dungeons and Dragons, a weekly Fun night, and the Prairie-developed 13-week HAWKS sex education program, all virtual. A flock of 8 plastic flamingoes sponsored by the RE Committee made the rounds to members' yards over the summer. Adults participated in a host of Zoom groups: a weekly singalong (later bi-weekly), and monthly women's, movie discussion, crafting, poetry, games and cards, and trivia groups. In-person activities included hiking groups, an outdoor dinner group, car parades, driveway and yard visits. The annual retreat transformed into a 10-day hybrid event highlighted by pre-recorded acts for the Zoom talent show and an in-person key-log ceremony at Holy Wisdom Monastery. An anti-racist committee and a similarly-focused book study group commenced in January. The congregation renewed its Welcoming Congregation status, Spring 2021. On May 9, the congregation voted to hire Matt Aspin to be our full-time contract minister, to start in August 2021.


2021-2022
Minister: Rev. Matt Aspin, starting 8/1/21
President: Rachel Long
RE Director: Alice Mandt
Administrator: Dan Klock
Newsletter Editor: Renee Deschard
As the COVID-19 pandemic eased in Dane County, we started in-person outdoor Sunday services on June 13, 2021, in the Annex backyard, an indoor meeting of WOW (women's group) on Saturday, July 3, and services in the newly-remodeled Meeting House on July 18 when the city finally granted an occupancy permit after nearly 2 years and 2 months of remodeling work. Another Zoom-only period lasted from November 14, 2021 to March 6, 2022. As of March 13, 2022, our in-person services have also been carried on Zoom, and WOW meetings are also both in person and on Zoom. Some committees continue exclusively on Zoom.