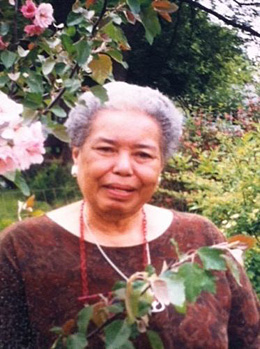 Patricia Delores Watkins
December 28, 1928 - December 12, 2013

Patricia Delores Watkins, 84 years young and a resident of Madison, WI passed away of lung cancer on Thursday, December 12th at Agrace Hospice Residence.

She was born in Grand Rapids, MI, on December 28th, 1928 to George and Doris Gaines. She is preceded in death by her younger brother, Gordon Gaines. Raised in Jersey City, NJ, she married high school sweetheart, Costell Watkins, who died of leukemia in 1959. She is survived by her daughter, Leslie Watkins and 9 nieces and nephews. She was the first member of her family to graduate from college; Seton Hall University in South Orange, NJ. After graduating she taught high school English in the Jersey City school system.

In 1961 as a 32- year-old widow she moved to Frankfurt, Germany with her 7-year old daughter, Leslie, to work for the US Armed Forces Institute as registrar. Watkins transferred to the USAFI offices in Madison in 1969 where she developed, authored and published the organizations first African-American literature correspondence course. After USAFI was closed during the Nixon administration, she enrolled in graduate school at the University of Wisconsin and worked in the English department. Next, she became the Assistant Director of Admissions at UW-Madison where she spoke with over 225, 000 students and their parents while in charge of the SOAR program. She retired in 1994 after 17 years of dedicated university service.

After she retired she was involved in 27 different organizations and activities. Patricia was the first African American to chair the UW Roundtable Luncheon; she was the first African American regional director of the Junior Science, Engineering & Humanities Symposium in Wisconsin and was also the first African-American on the Symposium's national board of directors. She was a lifelong member of the NAACP, The Urban League, and served on the Goals for Madison Committee in the early 70's as well as the State Street Mall Committee. She was an active member of the North-East Senior Coalition Ethnic Diversity Committee, League of Women Voters, Madison Civics Club, 2 book clubs, Theater Bus and Prairie Unitarian Society. She played chess and bridge. She loved folk music and while living in Germany started the Frankfurt Folk Club. When she was not busy making the community better she enjoyed writing, traveling, building her family tree as well as attending the symphony, theater and the movies with her friends and daughter.

In lieu of flowers, gifts may be made to one of her favorite non-profits: The Odyssey Program/UW Foundation, Dane County Humane Society, Women's Medical Fund and/or The League of Women Voters.

A memorial service is planned for Saturday, May 3rd, 2014 at 11am at First Unitarian Society, 900 University Bay Dr., Madison.