Madison protest songwriter Doleta Chapru dies at 75
GEORGE HESSELBERG | Wisconsin State Journal | ghesselberg@madison.com | Apr 24, 2012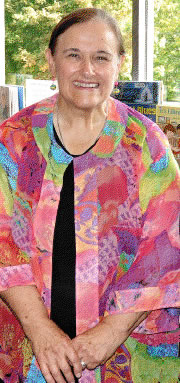 Madison musician, activist and humanist Doleta Chapru died Saturday at the age of 75. A musical activist and a leader in Madison's humanist movement who was also known for impish lyrics that resonated with political humor died Saturday of cancer.
Doleta Chapru, 75, was a talented writer of anecdotal history, a retired but rarely unoccupied music teacher and an authority on the proper way to bake a Welsh pasty. The notoriety of the state Capitol rotunda's Solidarity Singers is partly attributable to Chapru's devotion to wickedly funny parody.
Monday's sing-along was dedicated to the woman — a member of the Raging Grannies singing group, among others — who wrote, to the tune of "Santa Claus is Coming to Town," the following:
"They caucus when you're sleeping,
"They campaign with deceit,
"You dare not show a protest sign,
"But their friends are packin' heat."
Anne Reardon Urbanski, a member of the Prairie Unitarian Universalist Church choir, for which Chapru played piano, said her longtime friend stretched her musical talents for numerous events and causes, and was "a very warm person, dedicated and always listening" and a talented sight-reading musician.
Chapru grew up in Colorado, Oklahoma and Wyoming, always surrounded by music. She tap-danced, learned drums, clarinet and piano, earned two degrees in music, and worked and studied in Vienna, Austria.
She taught voice and directed high school musicals in southwestern Wisconsin while playing clarinet and accordion in the house band at Folklore Village outside of Dodgeville. She moved to Madison, earned a barbering license and got a job as a barber. In 2004 she was a founding member of the Humanist Union of Madison, embracing principles her son, Paul, said "she has always had, has been her passion."
Chapru is also survived by her husband, Warren Hagstrom, and a grandson. A memorial service will be scheduled later, her son said.