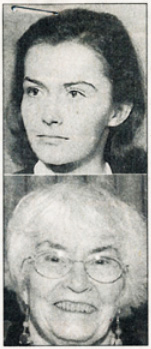 Elizabeth Ann Franklin Jallings
Apr 13, 2008


Madison - Elizabeth Ann Franklin Jallings, born June 9, 1916, passed away on Saturday, April 5, 2008, in Madison. Betty was the oldest daughter of the late Newton L. and Bertha E. Franklin. She had two sisters, Ruth Louise, born 1919, died 2001, and Susan Elvira, born 1920, died 1926. The family lived in Madison, where Betty graduated from West High School in 1934. Then they moved to rural Oregon and built a home in which four generations of the family have now now lived. Betty graduated from the University of Wisconsin in 1938, where she studied modern dance, music, and visual arts. She and her future husband, Jack Kirkland Jallings, met at a Spanish Club Halloween party at the First Congregational Church. Betty was dressed as a gypsy, and Jack, always a romantic, went home that night and told his brother, Charlie that he had met the girl he wanted to marry. And marry they did, on Aug. 17, 1940. They lived in Chicago, where they were involved in working for social justice, racial and religious tolerance, and community support for families in the housing projects of Chicago's south side. Betty created a world full of the arts for her three girls, and later her son: music, visual arts, puppetmaking, crafts, dance, creative drama, and storymaking, all enhanced by visits to museums and summers spent in Wisconsin with grandparents and cousins. A lifelong bookaholic, Betty also loved classical music and was a talented artist; her work was featured in a number of Madison art exhibits. She illustrated several books of Wisconsin pioneer stories. The family moved to Oregon in 1954, where their only son was born. Betty was involved in community groups, especially 4-H and Girl Scouts, worked at the State Training School for Girls, cultivated large vegetable gardens, and collected a menagerie of assorted animals. Betty returned to the UW-Madison for a master's in education in 1964. She taught English briefly at Central High School, then for many years at Madison Area Technical College. Betty was an active member of the American Federation of Teachers, a board member of the YWCA in Madison, and president of the local chapter of the Women's International League of Peace and Freedom. She spoke articulately and worked with total commitment to peace and justice, taking her children and then her grandchildren on various marches and demonstrations across the country. Both Betty and Jack were members of the First Unitarian Society and founding members of the Prairie Unitarian-Universalist Society. They traveled the world, taking photographs and collecting art, crafts and books of every description. In 2000, they moved to the Meriter Retirement Center. An intelligent, independent, artistic and articulate woman, Betty was very much her mother Bertha Englund Franklin's daughter. In turn she raised her children to value family, education and the arts, to believe in and think for themselves, and to work for positive change in their society and the world. Betty is survived by her husband of nearly 68 years, Jack; children, Susan Daniel of Toronto, Canada, Nancy Walsh of Oregon, Rebecca Jallings of Madison, and Jonathan Jallings of Oregon; as well as 12 grandchildren and their familes: Peter Daniel (Marcia) and son, Alastair of Toronto, Jennifer Daniel Duckering (Brent) and sons, Zachary and Matthew of San Diego, Calif., Kerri McCabe (Andrew) and children, Katie, Kylie, Liam of Patchogue, N.Y., Jessica Jallings Gomez (Brian) and daughter, Emily of Delafield, Kelly Walsh of Nashville, Tenn., Marissa Walsh of Annapolis, Md., Joshua Walsh and Eric Walsh of Loganville, Ga., Stacy Sandler and sons, Kyle and Taylor of Madison, Geoffrey Sandler (Karen) and children, Ryan and Jenna of Madison, Claire Sandler (Michael Kramer) and daughter Daisy of South Bend, Ind., and Lili Sandler (Zeb Page) and sons, Jack and Milo of Oberlin, Ohio; and many extended family members, friends and former colleagues across the U.S. The family would like to thank the many dedicated and caring staff at the Meriter Retirement Center who made Betty's eight years there so comfortable and pleasant. A memorial service will be held on Saturday, June 14, 2008, at 2 p.m. in the GRAND HALL at the MERITER RETIREMENT CENTER. Donations in Betty's memory should be made to the American Indian "College Fund," P.O. Box 172449, Denver, CO 80217-9797 or www.collegefund.org.

"I shall pass through this world but once. Any good therefore that I can do or any kindness that I can show to any human being, let me do it now. Let me not defer or neglect it, for I shall not pass this way again." Mahatma Gandhi.